Virtual Assembly Planning
XR-EASY allows new ways in assembly process planning: anyone can work intuitively on virtual prototypes with their bare hands anytime, anywhere. This enables assembly processes to be simulated, gripping and assembly steps to be optimized and overall waste to be reduced. This saves a lot of time, money and increases work safety.
Work steps are simulated virtually to optimize 3D models
With the VR-capable hardware and XR-EASY, for example, the development department of Schnaithmann Maschinenbau GmbH can better consider the assembly processes of their customers when planning their plants. Already in the conception phase, developers and customers can use VR glasses to experience the systems and check them "as in real" with regard to ergonomic or maintenance characteristics. This enables detailed troubleshooting right up to design release. Since the handling of the VR tool is intuitive, no special training or instruction is required. Virtual reviews are possible spontaneously in on-site meetings or at physically separated locations.
To use the VR tool, the 3D-CAD data generated for the design are loaded into the software at the push of a button, usually within minutes. The designers thus have a realistic, virtual system at their disposal for further work at any time. Data volume in the gigabyte range can be handled without any problems and facilities filling the entire hall can be called up in seconds, walked through with the aid of VR glasses and, thanks to the hand tracking technology of Leap Motion, touched and used.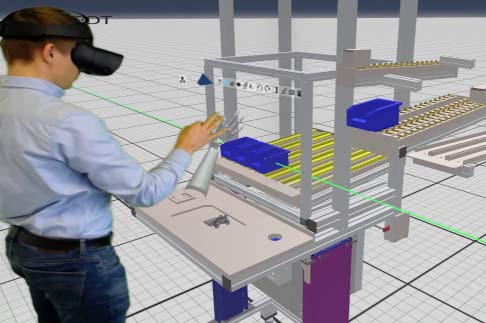 Advantages of planning with the help of XR-EASY
The digital model becomes a virtual prototype at the push of a button
Anyone can use the VR tool intuitively at any time without training
Early involvement of users and customers
Reaching space and collision analyses are possible without building a "real" prototype
Testing for ergonomics and assembly capability can be carried out in the virtual plant
If you would like a demonstration of XR-EASY or if you would like to test the software with existing VR hardware and your own 3D data, do not hesitate to contact us.
Start your free 14-day trial today