Critical design reviews, in which digital drafts or real prototypes are checked against the previously formulated requirements up to the point of release, are among the most important milestones within the planning of machines, systems or workstations. XR-EASY simplifies and accelerates the design review process and facilitates the documentation of decisions.
Perform design reviews more easily and more frequently with Virtual Reality
Whether alone or in a team, joint design reviews in virtual space accelerate this important step. In addition, completely new possibilities open up: Overall, the planning process becomes more agile. In addition, the construction of physical prototypes can often be avoided. Furthermore, the virtual collaboration of several participants is possible across locations and companies. Travel is no longer necessary. This enables much earlier and more frequent involvement of customers, fitters, workers and supervisors, which significantly increases the quality of planning and reduces planning time and costs.
With the Coop-in-VR mode XR-EASY offers various intuitive tools for working together on planning designs. Functionality, safety and ergonomics can be checked or even details of deviating machines, workstations or production facilities can be compared as if they were really side by side.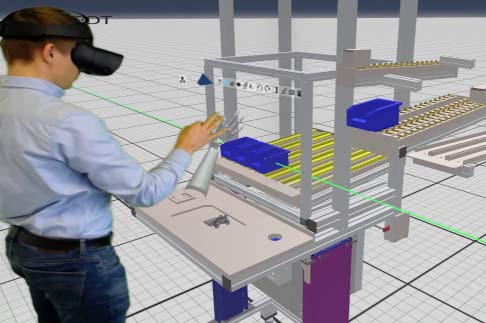 Advantages of design review using XR-EASY
Significantly reduced time to market
Involvement of third parties and their expertise
Team collaboration regardless of location (Coop-in-VR)
Intuitive working in the VR room with bare hands (like in real life)
If you would like to take advantage of all these benefits in Design Review, please contact us. We would be happy to present XR-EASY using your own 3D-CAD data.