Modern Virtual Reality (VR) has long been more than just a gimmick for nerds, whether private or corporate. Not least by professionals from the old VR world, the today cheap available consumer technology, has been minimised and labelled as a "funny gambling".
However, it has long been clear that the flexibly usable VR headsets offer great potential for a wide variety of software solutions and will in future shape diverse areas of application with new types of innovation.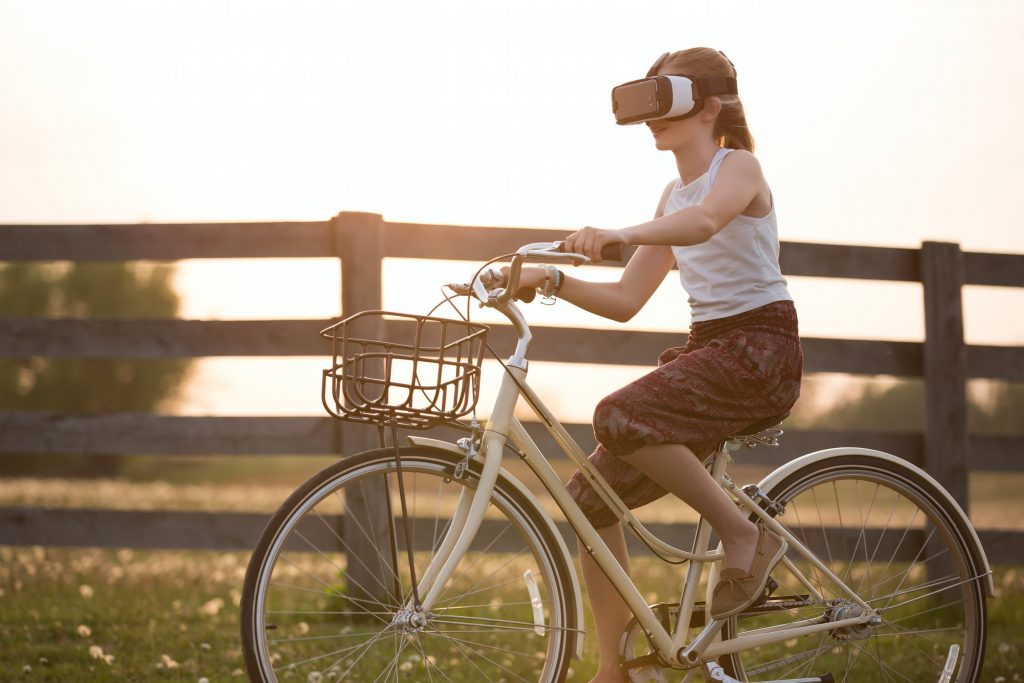 Events and trade fairs
The Corona pandemic has caused that events and trade fairs as we have known them up to now are at least temporarily no longer so easy to implement. Many experts assume that "large" events will have to take place without spectators for a long time. A future then is: Virtual Reality.
Whether theatre, sports events or concerts, all these events can be experienced much more realistically in VR glasses than on television. But that alone is not necessarily an innovation. Already in 2016, football and basketball games were streamed virtually for the first time. Viewers had the incredible opportunity to independently choose their own 3D perspective on the field and gain insights that could not be realised in the real world on site. Watching the game from a bird's eye view or court view – A dream come true for all fans!
Entertainment and leisure activities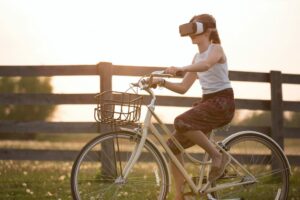 VR can also be found in many areas of the entertainment market and is actually becoming increasingly integrated into our everyday life.
Today, for example, there are fitness equipment with VR support that give their users the feeling of jogging along Miami's beach promenade or crossing the Alps on a mountain bike.
Of course, VR also has something to offer for extreme adrenaline junkies. The current trend is towards "dangerously" steep virtual roller coaster rides, where participants wear VR glasses during the ride but in the real world sit on the sofa at home. Just as exciting are simulators that allow a virtual flight through cities and over mountains.
However, VR glasses are most often used for 3D computer games that offer horror, action or adventure. One of the first VR technologies for game consoles was launched in the 1990s, the "Virtual Boy" developed by Nintendo.
In the meantime, VR can make a visit to a 3D cinema superfluous, as this leisure activity is possible thanks to the new headsets. Exciting VR movies take the home cinema experience to a whole new level and impress with unforgettable perspectives of scenes and actors. Also, Virtual shopping malls that can be visited with your own avatar are now being planned – real queuing was yesterday!
Test XR-EASY with your team today
Click now to really save time, money and nerves in your daily work with XR-EASY
Test XR-EASY today
Click now to really save time, money and nerves in your daily work with XR-EASY
Industry
A major growth driver is definitively the use of VR in the industry sector. Among other things, the technology is used in prototyping. Complex and expensive mockups are no longer needed, resources and money are saved. The future with VR makes a costly processes lot easier: The technology helps, for example, in production and assembly planning. More precise and effective planning processes using a VR tool will later avoid dangerous work situations or physical damage caused by a lack of consideration of ergonomics.
The use of VR for training and educational purposes is also noteworthy. Pilots or firefighters, for example, have been using the technology for a long time to train dangerous situations and to instruct their trainees. Work systems to be developed can be realistically simulated in VR and give employees the impression of their future working environment. The virtual scene appears in its natural size, technical processes can be reproduced as in real life.
Medicine
Very early on, the medical world discovered VR technology for itself. Virtual Reality is gaining ground in both therapeutic and medical fields. VR creates completely new dimensions for therapists and patients. Psychologists can accompany patients with fear of flying on virtual flights or patients with arachnophobia can overcome their fears in a virtual room full of these eight-legged friends. Doctors can try out new treatment techniques on virtual patients in their home office or prepare themselves immersively for serious surgery. In addition, pain patients who are actually lying in hospital beds can swim with dolphins in VR and thus recover from their trauma – all this is already possible and much more is in the pipeline.
It is clear to all experts: In the next few years VR glasses will effect our everyday life more than ever before. We will encounter more and more VR solutions both in our leisure time and at work, in further education or therapy. Many things will continue to develop, especially fully immersive VR hardware at affordable prices. And people want to use the potential: Virtual reality offers a completely new dimension and experience of (almost) everything we have known so far.
R3DT offers the most user-friendly Virtual Reality (VR) software for everyday use in industrial engineering. Users can virtualize CAD data at the push of a button (without special knowledge) anytime and anywhere. This way, 3D models can be experienced 1:1 within a few minutes, just like in real life.
Here you can find different application possibilities, book a live demo or simply contact us!